Vera Bradley mini Cooler Java Blue insulated travel cosmetic bottle camera tote NWT Retired beach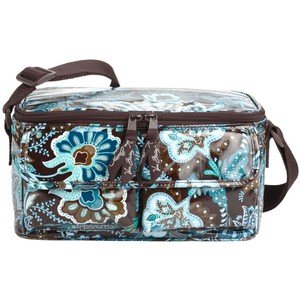 Vera Bradley mini Cooler in Java Blue
[same size as regular Cooler, just different front pocket config]

This colorful Cooler has a design that features easy-to-clean surfaces inside and out. The handy double front pocket holds napkins, utensils, or keys and cell phone. A long adjustable shoulder strap keeps you hands-free.
• 10" x 5½" x 5" with 49½" adjustable strap
• New, with tag.
• cooler/mini cooler are same size but mini has two outer pockets to Cooler's one.
•

www.silktraveler.com.

.
.