Loccitane Mimosa Eau D'Azur Solid Perfume 0.3 oz. 10 ml Discontinued Very Rare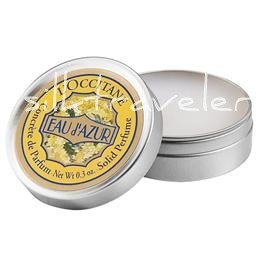 Mimosa Eau D'Azur Solid Perfume
by L'occitane en Provence

Inspired by the golden yellow mimosa flower that blooms in February on the hills of Côte d'Azur. A delicate floral with middle notes of mimosa absolute, heliotrope and wallflower, supported by a seductive base of musk and cedar, and brightened with spicy bergamot. Made in France.
- 0.3 oz/10 ml tin.
- Discontinued and Very Very Rare. Occasionally product in a tin will have 'sweated' a bit.
The soft fragrance of Mimosa in a take-along format. Small enough to slip into a pocket or handbag to make fragrance touch-ups easy. Subtle and sensuous. Alcohol-free.
On the hills of Cote d' Azur, Mimosa is a promise of spring's return, banishing winter with its golden yellow flowers.

www.silktraveler.com.