Loccitane Orange Leaves EDC Essential Oil 0.68 oz 20 ml Eau de Cologne Feuilles d'Oranger Disc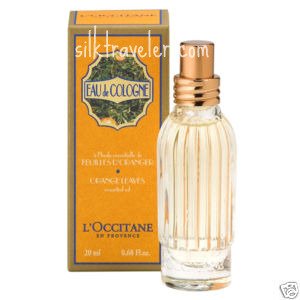 Feuilles d'Oranger by L'occitane en Provence
Orange Leaves Eau de Cologne 20 ml

"This light and breezy scent, made from the leaves, twigs and fruit of Seville orange trees, will energize and refresh the spirit."
- 0.68 oz/20 ml Travel Size fluted spray bottle.
- new and boxed.
- Stored in optimal conditions.
- Discontinued & much preferred version by most L'occitane orange fans.
Originating in the 17th century, Eau de Cologne was the first perfume product based on a bouquet of scents and no longer just a single fragrance, it led to the production of more elaborate and subtle scents. Our Eau de Cologne, faithful to the traditional recipe of Eau de Cologne, is made up of a combination of PETIT GRAIN, ORANGE, BERGAMOT ESSENTIAL OILS. Its fresh, original & sparkling fragrance lightly perfumes women & men & releases the invigorating freshness of an early summer breeze. Made in France.


www.silktraveler.com.