Merrell Luxe Button Bootie ankle boot Espresso suede US 9.5 EU 40.5 slip-on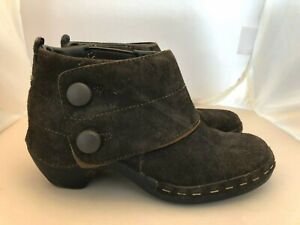 Merrell Luxe Espresso Button Bootie distressed leather suede

Hip Cool Chill and Broken in. Good used condition. Merrell Luxe Button Espresso Brown Suede Ankle Booties Womens Size 9.5US, UK7, EU40.5. style: J56076
www.silktraveler.com. and www.avintagevera.com.
I usually don't accept returns, especially on used items. If that's important, however, know that I would subtract $7 restock fee and you pay return shipping.
thanks.