EBags Medium Packing Cubes 3Pc Set. Black travel accessory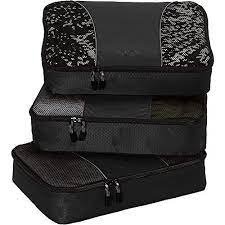 Ebags Medium Packing Cubes set/3

Organize clothing inside your overnight bag or checked luggage with this set of 3 packing cubes from ebags. The ebags Medium Packing Cubes - 3pc Set is made from TechLite diamond nylon fabric and includes three rectangular cubes that are perfect for holding all sorts of garments inside. You can use the three different cubes to hold tee shirts, dress shirts, pants, jeans, socks and undergarments, or you can use them to hold complete outfits. Each cube features a mesh top for visibility and ventilation, a webbing handle for easy carrying, self-healing zippers, and fully finished interior seams for added durability.
Overall Dimensions: 13.75" × 9.75" × 3".
Linear Dimensions: 26.5". Weight: 0.75 LB.
Material: Nylon. Color: Black.
formerly known as Medium Classic Packing Cubes
www.silktraveler.com. and www.avintagevera.com.