Thymes Coco Monoi Soap - Set of three 3.5 oz. bars Discontinued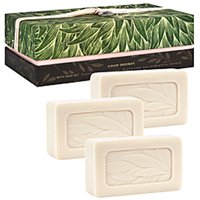 Set/3 Bars Thymes Coco Monoi perfumed Soap

Heady white blossoms of intoxicating gardenia scent the humid night air. Gathered by moonlight in the age-old Polynesian tradition, these most voluptuous and feminine of flowers are steeped in sumptuous oils to release their sensuous fragrance and energy. A modern, exotic blend of white gardenia, lushly layered with white tuberose, sweet osmanthus, and sultry notes of tonka bean and warm agarwood.
• Giftbox of three 3.5 oz Coco Monoi Soaps
• Nice and reusable as trinket or hanky holder!

www.silktraveler.com.