Crabtree Evelyn Nantucket Briar Original formula Bath Gel + Lotion 16.9 oz. NOS = new, old stock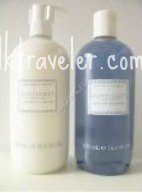 Nantucket Briar 16.9 oz Bath Gel + Lotion **
by Crabtree & Evelyn

Summers by the sea evoke salt weathered cottages, rambling roses and freshly ironed linens. Original classic version of scent which ended production in early 2014. These were purchased direct from C&E. ** most of the early version bath gel will fade, even if stored out of heat and light. This will likely be an aqua green as opposed to a bright blue.
- 1 of each in 500 ml/16.9 oz.
- NOS = new old stock, original formula.
SCENT: A blend of briar roses, bergamot, fresh greens, AMBER and vanilla. How to tell original from new version? it will have different ingredients than reformulation, mainly Linden and/or Mallow extract.
Discontinued. A long out of production bath/beauty product can sometimes seem slightly different in color or viscosity than you remember. Also, product can vary slightly from one lot to another. Keep this in mind to make an informed purchase.
www.silktraveler.com.



Note that C&E, after terrible post-2014 reformulation reviews, in 7/2015 wrote:
I sent a product inquiry to C&E confirming that there is a second reformulation that is much closer to the original scent, and this is their reply: "Crabtree & Evelyn reformulated the Nantucket Briar some time ago due to the fact that a key ingredient for the product was no longer available. Because the first reformulation was met with a resounding disapproval from our customers, we went back to the drawing board and have spent a considerable amount of time researching and developing a new formula that is much closer in fragrance to the original scent. The new formulation is now available to our customers online and in-stores."
.
.
www.silktraveler.com.

.