Thymes Fig Leaf & Cassis Body Wash Shower Gel Discontinued 8.75 oz version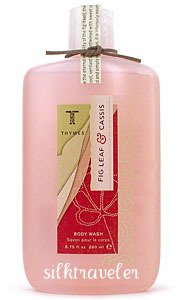 The Thymes Fig Leaf & Cassis Body Wash
original version.

Fragrance: Verdant fig leaf entwined with sweet cassis, reviving mandarin oil, juniper berry and purifying cypress.
• 8.75 fl oz / 260 ml Body Wash/Shower Gel
• Retired line and getting Very Hard to Find!
•Moisture-rich pistachio nut oil
•Hydrating glycerine
•Soothing chamomile extract
•Replenishing honey
Note that discontinued / expired bath and body products can vary slightly from what you remember in color and scent from newly produced product. Purchase accordingly, as B&B products are not returnable.

www.silktraveler.com.
www.avintagevera.com.