Fjallraven Raven 20L laptop Backpack discontinued Lake Blue carryon personal item tote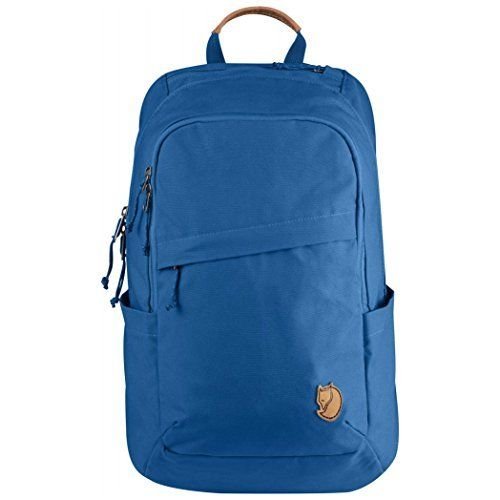 Raven 20L laptop Backpack in LAKE BLUE
by Fjallraven
Simple, practical and durable everyday backpack in G-1000 HeavyDuty Eco. Padded compartment for laptop computer as well as several spacious compartments and pockets.
Laptop Compartment Dimensions: 17.32" x 10.24" x 1.97". Size: Medium Exterior Dimensions: 17.72" x 10.63" x 7.87". Linear Inches: 36.22" Weight: 1 lb, 7 oz. Capacity: 1220 cu. in. Material: 65% polyester, 35% cotton. SKU: F26051 .
Main picture of your LAKE BLUE; addt'l pics for inside illustration.
Simple and hardwearing 20 liter backpack in G-1000 HeavyDuty, perfect for commuting and everyday use. Comfortably padded back panel and shoulder straps. Zippered main compartment with dedicated zippered laptop compartment for up to 15" laptops. Inside zippered security pocket
Front compartment with zippered mesh organizer pockets for overview of contents. Fleece lined pocket for mobile phone, sunglasses, etc.
Two side pockets. Handle with leather detailing.
- Discontinued color. New, with tags.

www.silktraveler.com.

loc.lau.rolling.