Crabtree Evelyn Clementine Basil Botanical Body Mist Naturals line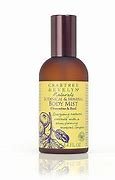 Clementine Basil Naturals Botanical Body Mist
by Crabtree Evelyn
This bright citrus & herb blend with clementine & invigorating basil extract refreshes & nurtures skin with healthy doses of vitamin-rich plant extracts & an invisible skin-strengthening mineral complex of copper, zinc & magnesium. Wear individually or layer with different body mist blends to create your own personal fragrance.
- 3.4 oz/100 ml spray bottle.
- p.s.:I may have some in PURSE SIZE too !
• Restorative & Revitalizing
• No parabens, synthetic dyes, or mineral oil.
COMPLETE LIST of other 5 scents in this line.
Black Tea, Vetiver, & Sugarcane
Olive, Almond & Myrtle
Pink Grapefruit & Cucumber - almost gone
White Tea & Birch - almost gone
Verbena & Sage
www.silktraveler.com.