Crabtree Evelyn Sandalwood Hair and Body Wash Bath Shower Gel men's toiletries Exclusive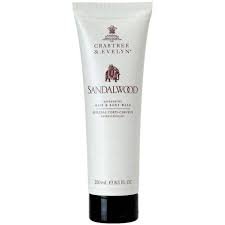 Sandalwood Rich Lathering Hair and Body Wash
by Crabtree Evelyn [exclusive listing. only ones on web]

This convenient combination body wash & shampoo enriched w glycerine & vitamin E, leaves the skin, hair & scalp feeling clean & refreshed w the aromatic scent of Sandalwood. Sandalwood oil, a prized aromatic for over 4,000 years, is blended w cedarwood & vetiver.
- 225 ml / 7.6 oz convenient tube.

www.silktraveler.ecrater.com.