SXK Wheeled Duffel EBags checked rolling luggage suitcase rugged Kevlar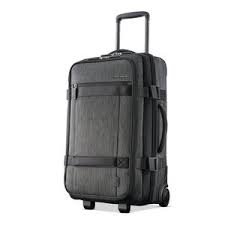 SXK Wheeled Duffel 2W rolling packing suitcase

A carry-all essential, the Wheeled Duffel, constructed from fabric reinforced with Dupont™ Kevlar® fibers, tackles daily and weekend getaways. Featuring the perfect blend of rugged and tailored construction, the interior features a wealth of organizational pockets for travel essentials. The two dedicated packing compartments offer both flexibility and ample capacity to organize your needs for any trip.
Overall Dimensions : 23.6" × 13.4" × 11.4".
Internal Dimensions: 22" × 12" × 11".
Linear Dimensions: 48.4". Weight: 7.6 lbs.
Brand: Samsonite. Material: Kevlar® Reinforced Fabric
. Material Definition
Fabric reinforced with Kevlar® fibers for long-lasting strength and durability. Smooth adjustable pull handle extends to a height that's perfect for you. The quick access, exterior pocket offers convenient storage for smaller items needed on-the-go. Two separate compartments provide flexibility to customize packing. The top section is ideal storage for smaller essentials while the bottom offers capacity closer to a standard carry on. Interior organization includes gusseted pockets ideal for shoe storage, two mesh pockets and one mesh divider and a wet pocket to secure and separate belongings during transit. Two Fidlock® magnetic release sliders provide fast, secure closure. Exterior integrated ID tag provides a convenient and discreet location to store contact information
Glass filled nylon zipper pulls are lightweight and provide added durability and strength for an easy slide. DuPont and Kevlar® are trademarks or registered trademarks of E.I. du Pont de Nemours and Company used under license by Samsonite LLC.
www.silktraveler.com. and www.avintagevera.com.