CALM magnesium supplement Natural Vitality 8 oz. Cherry Anti-Stress Drink Mix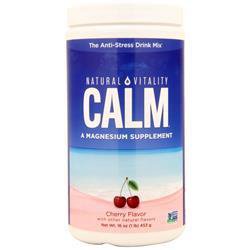 Natural Vitality CALM Magnesium supplement 8 oz. CHERRY

Natural Calm contains a highly bioavailable form of magnesium, known as magnesium citrate, which promotes mineral balance in the body creating a soothing, relaxing effect. Magnesium works to promote relaxation and also boasts powerful anti-stress properties. Peter Gillham Natural Calm provides magnesium in a delicious drinkable form naturally sweetened with stevia extract.

Magnesium citrate is formed from the synthesis of citric acid and magnesium carbonate, creating a water-soluble form of ionic magnesium that is readily absorbed and utilized by the body. You'll notice an instant soothing effect across your entire body after your first dose of Natural Calm. This happens from the replenishment of magnesium at the cellular level. Magnesium also has an entire host of other health benefits, including the promotion of skin and hair health. If you're looking for a premium and convenient form of bioavailable magnesium, Natural Calm by Peter Gillham is the perfect supplement for you.

Calm Description from Natural Vitality
Experience CALM:
You may notice muscles relaxing and an overarching sense of calmfulness.

Multi-award-winning Natural Vitality CALM, developed by Peter Gillham, is the best-selling magnesium supplement in the natural products market. (July 2020 Volume sales data for Natural Products market as defined by SPINS)

Why magnesium?
We all encounter stress daily whether we realize it or not, and our bodies can respond by depleting our magnesium levels.

We invite you to help replenish your body's magnesium levels and enjoy the wave of calmfulness.

Supplement Facts
Serving Size: 4 grams
Servings Per Container: 56
Ingredient Amount % Daily Value**
Magnesium (as magnesium carbonate) 325mg 77

** Percent Daily Value is based on a 2000 calorie diet. Your daily values may be higher or lower depending on your calorie needs.
† Daily Value not established.
Contains no sugar, fructose, or artificial color or flavor. Magnesium carbonate and citric acid, when combined with water, create a solution of magnesium citrate.
Vegan - Gluten Free - Non GMO
Ingredients:
Other ingredients: Citric acid, organic lemon flavor, organic stevia (leaf) extract.

Manufacturer's Directions
Recommended Use for Adults: We suggest starting out with half a teaspoon (1 g) of Natural Vitality CALM powder, gradually increasing to two teaspoons (4 g) daily.

Start by placing your desired amount of powder into a cup or mug, add 2-3 ounces of warm water, and let your drink fizz. Stir the drink until the powder is completely dissolved, then fill the remainder of the cup with warm or cold water. Now experience CALM.

Manufacturer's Disclaimer
Consult your doctor before giving to children under four, if you are pregnant or lactating, if you have kidney problems or an obstructed bowel, or if you are currently on medication.
Keep out of reach of children.

www.silktraveler.com. and www.avintagevera.com.