Crabtree Evelyn Poured Candle Wakaya 50hr Tiare Flower Coconut Frangipani Orange - Retired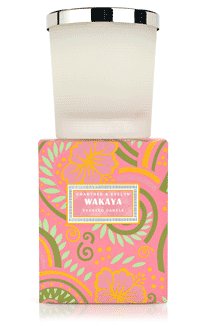 Crabtree & Evelyn 50 hr Poured Candle WAKAYA

Scent: Orange, Tiare Flower, Frangipani, Coconut Oil with Driftwood & Teak.
• ONE 3 - 3/4" x 3" Candle, giftboxed.
• Elegant glass holder with silver-plated lid
• Luscious tropical floral & luxurious fragrance
• Burn time: approximately 50 HOURS
• Discontinued & very hard-to-find. Use Search box (click View Store first if silktraveler logo not present) to locate a Set/2 or Set/4 listing of these candles.
We traveled the globe to explore the world's rarest, most precious scents and created truly luxurious home fragrances. This luxury, long-lasting candle - in simple, FROSTED GLASS & complete w SILVER-PLATED LID - will scent living spaces w our Wakaya fragrance, inspired by the South Sea Islands and created by one of France's oldest perfume houses.

www.silktraveler.com.