Crabtree Evelyn Eau Fraiche Rosewater toilet water cologne 3.4 oz. retired version nib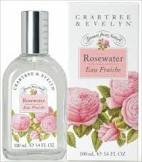 Crabtree Evelyn Rosewater Eau Fraiche

Rose water, distilled from rose petals blended with water, dates back to 10th century Arabia, and is one of the world's oldest perfumes. Our Eau Fraiche interpretation of this classic is a light, airy rose fragrance with fresh leafy green overtones. One bottle can vary slightly from another in scent and each lot produced may be slightly different from another. A bottle of discontinued favorite scent may 'seem' slightly different than what you remember from many years past.....
- Scent: Delicate rose bouquet with fresh leafy green top notes.
- 100ml / 3.4 oz bottle, boxed.
- Note that vintage discontinued fragrances may vary slightly from lot to lot produced and can 'seem' slightly different in scent than you remember.
Consider this when making your purchase.

www.silktraveler.com


[lic: Re and in a oneofakind in aisle of 11 ofc.