eBags Shoe Sleeves Stretchy holds S to L size shoes, hikers packing aid BLACK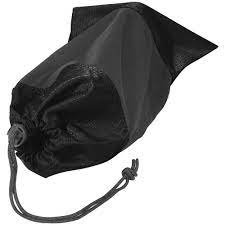 eBags Shoe Sleeves set/2 individual bags in Black charcoal.

One of my favorite packing aids! Wide open mouth for easy packing. Cinch tight closure with quick release button slider. Center panel is made of Lycra fabric for stretchy, versatile packing. Stretch fabric allows for packing of different shaped shoes such as, platforms, golf shoes or hiking boots. Soft design allows you to fit your shoes easily into small packing spaces. Women's heels can pack together in one bag, giving you a second bag for an additional pair (I fit my pair of women's size 9.5 sandals in one bag). Men's shoes fit into individual bags, comfortably fitting up to size 13. Great for tech stuff, lingerie, soft toys, etc.
= Exterior Dimensions: 12.5" x 8.5" x .2".
= Linear Inches: 21.2". Weight: 3 oz.
= Material: TechLite Diamond Nylon.
SKU: EB2129. Catalog #: CT39-97002.

lau;last;3rd.