Royall Bay Rhum 57 Eau de Toilette 8 oz. 240ml Royall Bermuda rum fragrance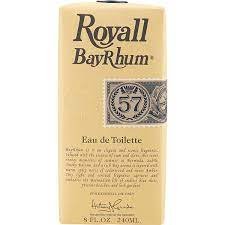 Royall Lyme Bermuda Bay Rhum Eau de Tolette 8 oz.

ROYALL BayRhum 57 is an elegant and iconic fragrance infused with the essence of rum and clove, this scent evokes memories of summer in Bermuda. Subtle Smoky Balsam and a rich Bay aroma is layered with warm, spicy notes of cedarwood and sweet Amber. This light and sensual fragrance captures and embodies the Bemudian life of endless blue skies, pristine beaches, and lush gardens.
By Royall Lyme, a registered trademark of Royall Fragrances Bermuda.
- Made In USA.
- large 8 fl oz factory packaged bottle.
- www.silktraveler.com.