Crabtree Evelyn Avocado Oil Lotion 16.9 oz 500 ml Original formula - discontinued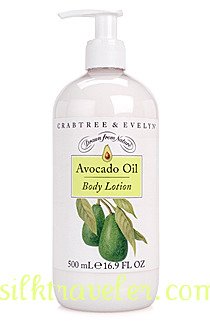 Avocado Oil Body Lotion 16.9 oz • 500 ml. Original non-blend formula. Discontinued.
by Crabtree & Evelyn

This skin conditioning lotion contains both sweet almond oil and cold-pressed avocado oil. Rich in protein, oil minerals and vitamins A and B, avocado oil is one of nature's most effective moisturizers for normal to dry skin
- 16.9fl oz / 500ml bottle.
Scent: Light, fresh fruit and floral complex with lemony overtones. (single scent has been replaced with a multi scent blended version).
www.silktraveler.com.