Crabtree Evelyn Noel Home Fragrance oil Candle Porcelain diffuser Original formula Frankincense gift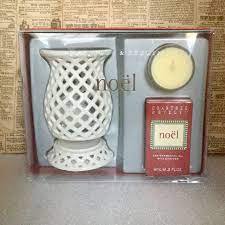 original NOEL Home Fragrance Oil + Votive Candle + 2 Pc Porcelain Diffuser. a trio by Crabtree & Evelyn

This gorgeous Porcelain lattice design Diffuser comes with its own Noel home fragrance Oil in the original and beloved scent with just Frankincense & Siberian Fir. This elegant decorative lamp is designed to gently diffuse fragrance into the air, for an atmosphere of luxury & a unique sense of home. Flame and electricity free fragrancing.
-- new and suitable for gift giving.
www.silktraveler.com.
www.avintagevera.com.