Crabtree Evelyn Anakkara Amber Environmental Oil home perfume Vanilla Cardamom Annakara Anakarra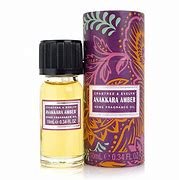 Anakkara Amber Home Fragrance Oil - it's luscious and hard-to-find!
by Crabtree & Evelyn

SCENT: Creamy, sweet oriental blend of amber, vanilla and apricot with coriander and green cardamom spice notes.
= Use in potpourri pots, warming trays, oil burners, lightbulb rings, diffusers & to freshen dry potpourri.
- 0.34 oz/10ml boxed bottle oil.
- Retired line.
- Also available as a listing of Four oils and Anakkara Amber Travel & Poured Candles, and Room Fragrance Spray.
= Inspired by the aromatic treasures of India's ancient spice route and created by one of France's oldest perfume houses.

www.silktraveler.com.