The Vert Green Tea Solid Perfume L'occitane Concrete de Parfum 0.3 oz / 10 ml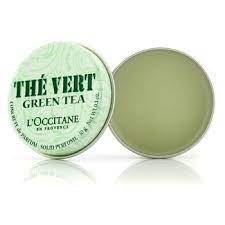 Green Tea / The Vert Solid Perfume - Concrete de Parfum
by L'occitane of Provence

Subtle complex of fresh aromas uplifts your mood--transporting you to green fields laced with the invigorating fragrances. Appreciated equally by men and women the tonic green aroma creates sensations of well-being and freshness
Applied directly on the skin, this solid perfume develops and diffuses its voluptuous scent all day long.
- Green Tea Solid Perfume tin - 10ml / 0.3oz
- Purse, Travel size. minor dents in soft tin not uncommon.
- this listing is for the version pictured, with the painted enamel case.

www.silktraveler.com.