Bal a Versailles Mini EDT 7 ml 0.17 fl oz Sealed Jean Desprez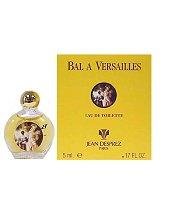 Bal a Versailles Eau de Toilette MINI
by Jean Desprez

Soft, sweet spices and orange flowers with lower notes of musk, civet and ambergris. Truly a lush, romantic, complex feminine fragrance. Introduced in 1962.
Classification - a refined, oriental, gentle, floral fragrance. Recommended use - evening.
* 0.17 fl oz / 7 ml Eau de Toilette MINI.
* in factory sealed box, stored optimally.
* a wonderful way to try this lush fragrance and even better to find a mini in the lighter strength edt concentration.
Note: 2d pic is of my own bottle - your box will be gold.


Bal à Versailles is a marvelous, iconic and perhaps a little underrated chypre rich in civet and grace, a dirty Kouros wrapped into the warm skin of a lady scented with Shalimar – or, except for the leather, the naughty Habanita ready for her début in the high society. Benzoin, vanilla, oak moss, civet, flowers, fruity notes, leather, iris, a slight aldehydic accord, musk... what completely amazes me is that Bal à Versailles is surely skanky and carnally dirty, but there is also this irresistible sense of utter, golden, velvety refinement and elegance, in a really radiant, powdery way, like if you can almost feel the silky scented powder on the dresses of the ladies dancing. Perhaps it is just about that: the smell of dancers in a Belle Epoque ambiance, with all their scents, but also their passions and dirty secrets. As minutes pass - as the ball goes on, one might say... - Bal à Versailles gets increasingly darker and dirtier, with the civet note emerging in its sweaty, irresistibly "urinous" personality, always perfectly blending and hiding in a white fog of talcum and warm floral gracefulness. Great persistence, great scent, great everything.