Bal a Versailles Eau de Toilette 1.7 oz 50 ml Sealed EDT fragrance perfume Jean Desprez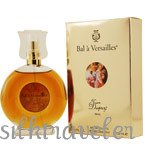 Bal a Versailles by Jean Desprez

Introduced - 1962.
Soft, sweet spices and orange flowers with lower notes of musk, civet and ambergris.
Classification - a refined, oriental, gentle, floral fragrance.
Recommended use - evening.
Truly a lush, romantic, complex feminine fragrance.
- 1.7 fl oz / 50 ml Eau de Toilette spray.
- in factory sealed box, stored optimally.

www.silktraveler.com.