Vera Bradley Card Case Blue Lagoon redesigned magnetic close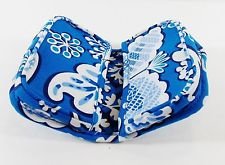 Credit card case in Blue Lagoon by Vera Bradley

This magnetic close card case design was quite a departure from the old thin version which held just a few cards in each side. I love the self trim around all edges and the larger size that holds quite a few more cards; and not only business cards but credit cards which some older cases are quite a snug fit in.

New, without tag.