Crabtree Evelyn DUO classic Lavender Bath Shower Gel + Lotion 5.1 oz. 150 ml. GIFT NOS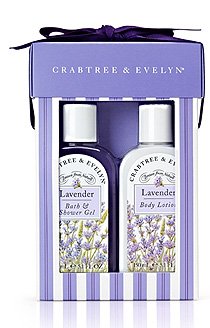 Lavender Duo by Crabtree & Evelyn [NOS = new, old stock]

Scent: The clean refreshing scent of English lavender [original classic lavender version]. NOS = new old stock. Bath & Shower Gel paired with Hand & Body Lotion.
Contains:
One 5.1 fl oz/150 ml bottle of each.
NOS = new, old stock.
Note item size: floral Duo's have been produced in 150 and 200 ml sizes. - NOS = new, old stock.
- note that slight variation in appearance, color, viscosity, scent is not uncommon in vintage discontinued bath and body products, from when originally produced. Bear this in mind when purchasing.

www.silktraveler.com.