Crabtree Evelyn original classic Bath Shower Gel + Lotion pure essential oil Lavender 16.9 oz 500ml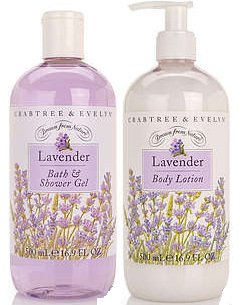 Crabtree & Evelyn Lavender Shower Gel + Body Lotion.
the Original Classic formula in 16.9 oz version!

We use only the finest lavender oil, prized by herbalists for its soothing properties, to scent our CLASSIC lavender bath and body care products.
Scent: The clean, fresh scent of English lavender
Size: 16.9 oz/500ml. C&E has stopped producing the classic Bath and Shower Gel. A recent search uncovered none, anywhere on the web! I also have the classic version available in 8.5 oz size. Use Search bar to locate.
- 16.9 oz / 500 ml spray bottle. Compare to the newer blended version that's only 10.1 oz bottle. **note that cap cracked a bit and I have taped it. Still fine but worth a note.
- discontinued larger size and formula.
- I also carry the companion Lavender Fabric Wash which has been discontinued & is hard-to-find.
- NOS = new, old stock.
- note that slight variation in appearance, color, viscosity, scent is not uncommon in vintage discontinued bath and body products, from when originally produced. Bear this in mind when purchasing.

www.silktraveler.com.

- Indulge your senses
- Lavender scented sheets and clothing
- Contains pure lavender essential oil.
- Scent: The clean refreshing scent of English lavender.
© Crabtree & Evelyn Ltd

www.silktraveler.com.

www.ecrater.silktraveler.com.