Crabtree Evelyn Sonoma Valley Environmental Oil home fragrance perfume diffuser fragrance Disc'd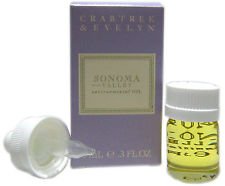 Sonoma Valley home fragrance oil
by Crabtree Evelyn

- 0.3 fl oz bottle with dropper, boxed.
- retired product line & Very Hard to Find item.
Scent - the fragrance of green meadow grasses, and the fruity topnotes of nectarine, fig, and grape leaves entwined with a floral heart of mimosa and wisteria.
Use in burning pots, lightbulb rings, oil burners, and to freshen dry or crystal potpourri or even dropper onto a centerpiece of fig leaves!

Crabtree & Evelyn.
www.silktraveler.com.