Crabtree Evelyn Sonoma Valley triple-milled Bath Soap 2X 3.5 oz./100g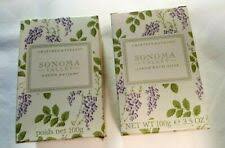 Two boxed bar Sonoma Valley soap 3.5 oz/100gr TWO
by Crabtree & Evelyn

Scent - the fragrance of green meadow grasses, and the fruity topnotes of nectarine, fig, and grape leaves entwined with a floral heart of mimosa and wisteria.
- you will receive Two 3.5 oz boxed bars, as pictured.
- tip; often, the pricier vintage soaps are sold by the bar, instead of a boxed set of 3.
- Discontinued and hard-to-find.

This pure, creamy vegetable-based soap is TRIPLE-MILLED to produce a rich, creamy lather and contains clover, linden and elderflower to help nourish, moisturize and soften your skin with each use.

-- inspired by the picturesque wine growing region of Sonoma, California. Idylic vineyards, rolling meadows, and sparkling creeks provide a back drop to the relaxed lifestyle of this region, rich in creative and artistic expression. The fragrance includes ripe fruit notes blended with flowers, woods and ferns native to Sonoma.

www.silktraveler.com.