Crabtree Evelyn Kalahari Botanical Potpourri African desert large 3.5 qts, 3+lbs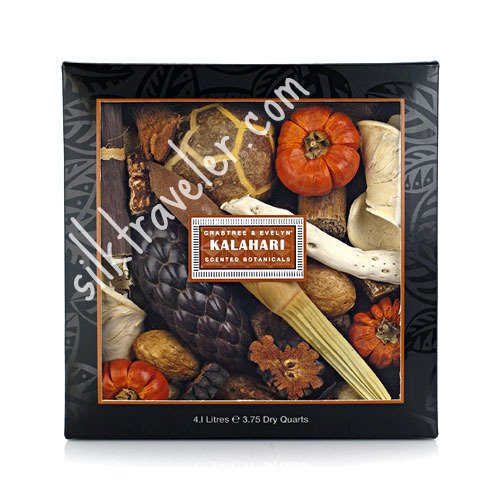 Kalahari Scented Botanicals Potpourri NOS = New, Old Stock.
by Crabtree & Evelyn

- Scent living spaces with decorative natural elements. This aromatic potpourri blend of exotic pods & berries with splashes of red & orange is fragranced with the aroma of crisp greens & woods - inspired by the African savannah & created for us by one of France's oldest perfume houses. This has been stored in its original container in plastic bag in dark cedar lined closet since purchase. Its fragrance may be slightly less pronounced than original or than you remember. I have one of these that I uncover and use each Fall into Winter. Sometimes I'll spritz the companion Room Spray to refresh.
- Discontinued - Impossible to find now!
- 3.5 Dry Quarts [over 3 pounds!]
- I also have listings of Room Spray and Travel Candle, if you like.

This is a fabulous host/hostess gift, looks superb in desert, sub-saharan and other dramatic decors. It has an elegant presentation and contents can fill two tray/platters or large, deep bowl.
- Fragrance Notes: savannah grasses, acacia leaves, acacia blossoms, desert flowers, wild tart berries, citruses, sun-baked sand accord, pepper, musk, acacia wood, ebony, exotic woods, sap / resinous accord.
- Scent: Crisp, woody green blend of savannah grasses, acacia blossoms, tart red berries and sun-baked sand.

www.silktraveler.com.