Very Bradley Small Cosmetic case Yellow Bird travel makeup bag NWT Retired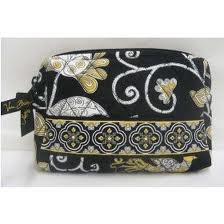 Vera Bradley Small Cosmetic in Yellow Bird

This smart case is the ideal stow-away for your most important beauty secrets. Plastic lined & equipped w side carry loop for glamour on the go.

- 7" x 4" x 1¼"
- New, with tags.
- Retired.

www.silktraveler.com.