Caldrea Basil Blue Sage Kitchen Gift Set 8 oz. Countertop Cleanser & Dish Soap + Sponges RARE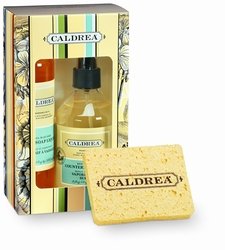 Basil Blue Sage Kitchen Gift Set by Caldrea

The Caldrea BASIL BLUE SAGE Kitchen Gift Set is a perfect way to introduce a friend to Caldrea, or to try a new fragrance yourself. Each set contains our countertop cleanser, formulated with a special vegetable protein extract to remove kitchen odors, and a bottle of Caldrea Dish Soap, made with naturally degreasing soap bark extract. Finally, two French Pop-Up Sponges complete the set.
I just came across an old Cadrea shipment and have over 15 fabulous retired scent line products. Enter Caldrea in Search bar above to browse others.
Each set includes:
Countertop Cleanser, 8 fl oz
Dish Soap Liquid, 8 fl oz
Two French Pop-Up Sponges

www.silktraveler.com.