Thymes Rollerball Cologne Eucalyptus Retired traveler roll on perfume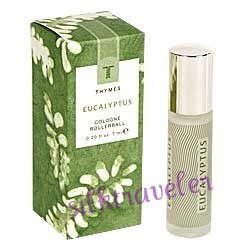 The Thymes Eucalyptus Cologne Rollerball
travel roll-on

...fresh & cleansing blend of invigorating eucalyptus oil, crisp Italian lemon, lime & petitgrain, ...Eucalyptus is positive & alive. wakes you up & leaves you centered, open & ready to take on the day. Popular with men & women alike.
- 0.20 fl oz / 7 ml Cologne Rollerball
- Retired line, Very Hard to Find Item!

www.silktraveler.com.
.................