Lipault City Plume 24hr Bag Duck Blue weekend overnight carry-on personal item tote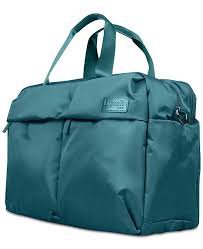 Lipault City Plume 24hr Bag in Duck Blue [teal blue-green] discontinued

Understatedly stylish and functional, this 24-Hour bag from Lipault can take you to the gym or on a day trip. The interior includes pockets and compartments that keep you organized no matter where you're headed.
Exterior & Packing Approx. Dimensions: 17.3" x 11.2" x 8.5".
Interior: zip pocket; two flat pockets.
Exterior: zip pockets at front; pocket. at side
Handles: shoulder strap; carrying handles.
Weight: 2.4lbs. Color: Duck Blue.
Warranty: manufacturer's three-year warranty.
Nylon - Wipe clean - Imported.
www.silktraveler.ecrater.com.
www.a vintagevera.com.
#11-Gar-front.. +Laundry.