Thymes Body Lotion LAVENDER 8.75 oz boxed clary sage NOS -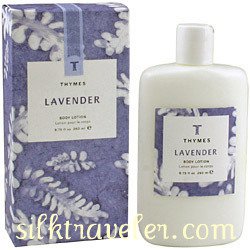 Thymes Lavender Body Lotion
NOS = New, old stock.

It's lavender like no other. With a welcoming composition of soft, velvet lavender expertly blended with the warmth of Rosewood, Clary Sage and Violet Leaf, Thymes Lavender is a fragrance that calms and restores..
- 8.75 oz / 270 ml Boxed bottle.
- NOS = new, old stock.
- note that slight variation in appearance, color, viscosity, scent is not uncommon in vintage discontinued bath and body products, from when originally produced. Bear this in mind when purchasing.
www.silktraveler.com.