Crabtree Evelyn Sweet Almond Oil Shower Gel Lotion 16.9 oz DUO 500 ml Discontinued original formula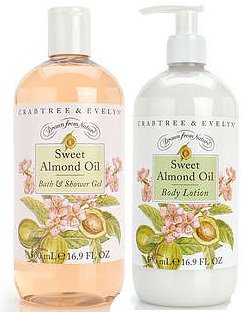 Sweet Almond Oil Bath & Shower Gel + Lotion
Discontinued original version.
16.9 oz. Value Size • by Crabtree & Evelyn

Scent: The sweetness of spring almond blossoms with a hint of the familiar bitter almond note.
• One 16.9fl oz / 500ml bottle of each.

www.silktraveler.com.