Thymes Body Wash Lavender Shower Gel clary sage rosewood NOS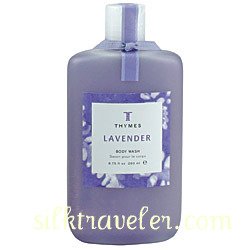 Thymes Lavender Body Wash

It's lavender like no other. With a welcoming composition of soft, velvet lavender expertly blended with the warmth of rosewood, clary sage and violet leaf, Thymes Lavender is a fragrance that calms and restores..
NOS = new, old stock.
- note that slight variation in appearance, color, viscosity, scent is not uncommon in vintage discontinued bath and body products, from when originally produced. Bear this in mind when purchasing.
9.75 fl oz / 270 ml flip-top bottle.

www.silktraveler.com.