Crabtree Evelyn Traveler Nantucket Briar Soap Gel Lotion POWDER weekend travel jewelry roll case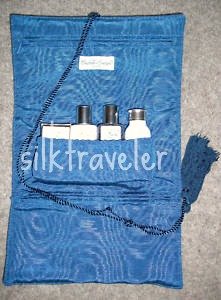 5 Pc Traveler in original Nantucket Briar
by Crabtree & Evelyn

The classic styling of Crabtree's popular Weekender series travel cases. Case contains four popular Nantucket Briar Travel Size products:
- 1.7 oz/50 ml Shower Gel, Lotion, Soap, & Powder.
In addition to the Elasticized pouch are two side zipper pockets for jewelry or accessories or ... Rolls and wraps by a tasseled silken cord.
- Use Search box above to locate other listings of Nantucket Briar travel size products, if interested. It compliments the Wisteria line also. The case is new in C&E plastic bag.
Be aware that long discontinued bath and body products may have slightly altered in scent strength, color, and/or viscosity.
www.silktraveler.com.