L'occitane Honey & Lemon Delicious Lip Gloss X2 / 6 ml MINI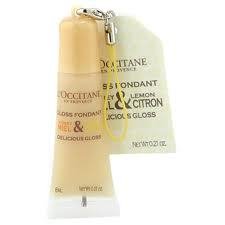 Honey & Lemon MINI 6 ml/0.21 oz. Delicious Gloss X2
by L'occitane en Provence

Enriched with Shea Butter and pure Honey, this pearlescent lip gloss is as sweet as a honey dessert. Leaves lips looking glossy and sweet while nourishing and protecting. Does not contain mineral oil or lanolin. Clips to your purse or jeans with handy lobster clasp.
- TWO 0.21 oz / 6 ml MINI size tubes, with loop.
- Retired line.
- my last set.

www.silktraveler.com.